Brother 1034D 3 or 4 Thread Serger with Easy Lay In Threading with Differential Feed
Brother 1034D 3 or 4 Thread Serger with Easy Lay In Threading with Differential Feed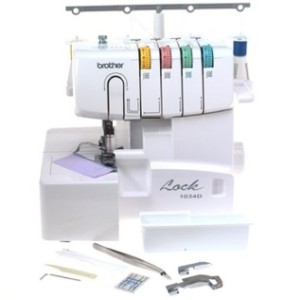 Price: $199.99
Two reviews of the Brother 1034D 3 or 4 Thread Serger with Easy Lay In Threading with Differential Feed are offered here.
Visit Website

I think if you're looking at this machine, you're either a) new to serging or b) impressed by the price and interested in the quality. I'm completely new to sergers, but I did my homework before buying this one, and for the price and the performance, this serger has a perfect balance.
I was also concerned about being able to figure out how to use it on my own (so many people talk about taking a class) but within a day I felt like I knew it inside and out. It's setup is uncomplicated and I was able to get right to work. There's something to be said about passing over the machine that can "do it all" and buying one that just does what you need.
1) The "how-to" videos are wonderful for the visual learner. You can pick up the same knowledge from the thorough instruction book(s) included, but the videos reinforce the book. Watching the video on "threading" once, and following the line drawings on the machine itself, I was able to thread the machine in 5 minutes. (It's really not that hard – it's all color coded and the steps are numbered, but the videos help)
2) Included are two additional feet, one for a blind hem/flatlock and another for gathering ruffles as you sew. Together, they themselves are an $60 value. The feet are "snap-on" (when I read about that online I instantly thought of breakable plastic, but the feet are primarily metal with some plastic pieces on the blind hem foot) – the "snap-on" construction is very easy to use and solid (i.e. nothing is going to snap OFF over time)
3) It's very easy to set the tension and the manual has a very clear chart on troubleshooting uneven stitches (with 4 threads, there are multiple things that can be off with the tension).
4) The company description says that it does 22 stitch functions, which I think is a little misleading (it does the basic stuff and they show different applications for the basics).
THIS IS WHAT IT DOES:
1. 3/4-thread overlock (uses 4 threads; best for use with knits or upholstery fabric)
2. 3-thread overlock (general use) in two widths – 3mm (using only the right needle) and 5mm (using only the left)
3. Rolled hem (great for edges of napkins, pajama bottoms, frilly skirts, etc)
4. Flatlock stitch (decorative or flat seams)
5. Blind hem
THIS IS WHAT IT DOESN'T DO:
1. Coverlock stitch (stretchy stitch with two straight lines on the front of the fabric). If you're sewing for yourself (i.e. not selling what you make), you can fake this stitch on your regular zigzag sewing machine with a twin needle. It's not quite the same, but close enough for me.
2. Chain stitch (a semi-straight stitch, similar to a regular sewing machine but easier to rip out (i.e. good for basting) and a good reinforcement for upholstery)
Other sergers I looked at that did the coverlock stitch in addition to overlock, etc. had complicated and time consuming adjustments to be made to switch to the coverlock. If you're going to use it a lot, consider getting a separate machine that does it (the Brother model is 2340CV).
The one feature the 1034D is missing for me is the ability to do a 3-thread overlock and a chain stitch at the same time – good for upholstery but something available only on a 5 thread machine.
5) Nice little things:
1. You have the option of using regular thread spools (cheaper and smaller if you don't need 1000 yards x 4 of whatever color you're buying)
2. You use regular needles – so you can use them in both your regular sewing machine and your serger
3. It's really easy to control speed with the foot pedal – very responsive
4. Disabling the knife (that trims your fabric as you sew) is done with just the flick of a switch
5. Differential feed allows you to sew any thickness of fabric, line up stripes evenly, etc.
I was loving this machine till it BROKE!!! This is my first serger and I found it very easy to use. Watched the videos and referenced the books and I was off and sewing. Then tragedy struck, I was sewing a purse made of wool and when I came to a thicker seam instead of stopping the whole arm that runs the needle bent sideways. There was no way to fix it. Luckily amazon took it back and refunded my money without any problems. After thinking about it for a few weeks I decided this must have been a fluke and I'm going to try it again, so I have ordered another of the same — wish me luck!
Of 601 purchasers of the Brother 1034D 3 or 4 Thread Serger with Easy Lay In Threading with Differential Feed, 467 rated this Brother Thread Serger as 5 star, 79 rated it as 4 star, and 18 purchases gave it a 3 star rating. A 5 star and a 3 star rating are presented here.